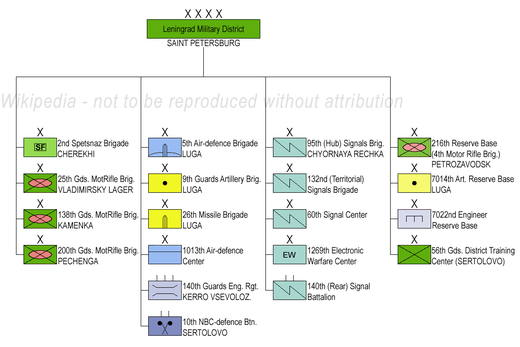 Combat formations:
25th Guards Independent Motor-Rifle Brigade "Sevastopol - Latvian Rifles", in Vladimirsky Lager equipped with MT-LBV
138th Guards Independent Motor-Rifle Brigade "Krasnoselskaya", in Kamenka equipped with MT-LBV
200th Guards Independent Motor-Rifle Brigade "Pechenga", in Pechenga equipped with MT-LBV
216th Reserve Base (4th Independent Motor-Rifle Brigade), in Petrozavodsk
2nd Independent Spetsnaz Brigade, in Cherekhi
56th Guards District Training Center "Krasnoselskyy"
Missile and Artillery formations:
26th Missile Brigade "Nemanskaya", in Luga
9th Guards Artillery Brigade "Kelecko-Berlin", in Luga
7014th Artillery Reserve Base, in Luga
Air-defence formations:
5th Air-defence Brigade equipped with the Buk missile system
1013th Air-defence Center
Engineering formations:
140th Guards Engineer Regiment "Kingisepskyy", in Kerro Vsevolozhskyy
7022nd Engineer Reserve Base
NBC-defence formations:
10th Independent NBC-defence Battalion, in Sertolovo
Signal formations:
95th (Communications Hub) Signal Brigade "50th years of USSR"
132nd (Territorial) Signal Brigade "Konstancskaya"
60th Signal Center
1269th Independent Electronic Warfare Center
140th Independent (Rear) Signal Battalion
The 138th Guards Motor Rifle Brigade at Kamenka was deployed for operations during the Second Chechen War, in which, along with other Russian Ground Forces units, its personnel was reported to have behaved badly at times. A 22-year old woman in Ingushetia was shot by drunken soldiers from the brigade scavenging for alcohol. The deployment of a tank battalion of the brigade was apparently halted when it was discovered that soldiers had been selling the explosive from their tanks' reactive armour. The second fully operational brigade in the district, the 200th Motor Rifle Brigade descends from the World War II-era 45th Rifle Division, which later became the 131st Motor Rifle Division.
According to Soldat.ru online forum conversation in August 2007, as from 1 December 2006 the 35th Base for Storage of Weapons & Equipment, a former motor rifle division, at Alakurtti, was disbanded.
The Airborne Forces' 76th Air Assault Division is also based within the district's boundaries, at Pskov