The Israeli government is trying to stop commercial satellite photography companies from disseminating high-resolution images of the country over fears Hezbollah or Hamas could use them to more accurately plot attacks.

Israeli officials are fuming over an apparent change to a US policy that prohibits sharper images of Israel from being posted on the internet.

Amnon Harari, head of the Israeli Defense Ministry's Space and Satellite Administration, said on Israeli public radio station Kan on Monday that the sharper the photograph, the more dangerous it is to Israeli security.

"We would always prefer to be photographed at the lowest resolution possible. It's always preferable to be seen blurred, rather than precisely," Harari said, according to Reuters.

At issue is the 1997 Kyl-Bingaman Amendment, a US law that prohibits satellite photos with a resolution of less than 2 meters. However, on June 25, the Commercial Remote Sensing Regulatory Affairs (CRSRA) Office said it would begin allowing enhanced-resolution images of Israel down to 0.4 meters. Part of the National Oceanographic and Atmospheric Administration (NOAA), the CRSRA handles licensing for commercial imaging satellites.

"We are in a process of studying what exactly is written there, what exactly the intentions are, what we can respond to, ultimately," Harari told Kan.

The commercial satellite imaging industry has proven a valuable tool for US intelligence. Last month, one firm, Maxar Technologies, announced it was taking over 3D analytics firm Vricon, which it started up five years ago in conjunction with Saab. Vricon's largest customer is the US Army and Maxar has partnered with NASA on such projects as the space agency's new lunar program.

Maxar CEO Dan Jablonsky told CNBC that Maxar's imagery satellite technology would "supercharge" Vricon's modeling, making it "able to create photo-realistic, 3D accurate data models overnight essentially, by harnessing the two capabilities together."

Also last month, the US National Reconnaissance Office (NRO) announced it would be extending several large contracts to commercial satellite imaging firms "to support defense, security and many other US government missions" by the end of the year.

"We've been conducting market research and engaging with the commercial imagery providers to determine the extent to which the US commercial remote sensing industry can satisfy our requirements now, through 2025 and beyond," Pete Muend, director of the NRO's Commercial Systems Program Office, told SpaceNews. "We're looking to buy where we can from commercial providers and, only where sources aren't available, build systems to meet our unique tailored needs."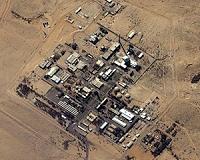 Tel Aviv (Sputnik) Jul 13, 2020 - The Israeli government is trying to stop commercial satellite photography companies from disseminating high-resolution images of the country over fears Hezbollah or Hamas could use them to more accu