Hi people.
I recently got hold of a Nagant M44 carbine that envoked a couple of questions.
From what I can read from the markings, I understand as much as that it should have been manufactured in Poland in 1953, but from there on, Im not really sure what to guess.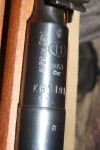 First of all, it has two lions on it, one with 87 following it. I of
course

recognize them as Finnish, but cant wrap my head around what more they tell, nor what 87 means.
Also, the reciever is marked 7,62x53R. I know there isnt that much difference between the 54R and 53R, but does that mean that the barrel has been replaced with one chambered for the finnish cartridge or something? I myself havnt fired it yet, but from what I know, the previous owner have used at least 53R cartridges, and claim it was very precise with them.
In general, the rifle looks like it has seen practicly no use at all, with only some minor scratches on the stock,which is made from hardwood and not laminate, I might add.
So, I guess my questions are, in short:
How/when did this rifle end up in Finland, and why?
Whats up with the calibermarking?