Al-Khalid II
– In early stages of development and believed to incorporate re-designed turret, Increase in weight, upgraded modular armour package and sensors, improved ammunition and new powerpack developing 1,500 hp.As of 2012 two prototypes are developed
http://en.wikipedia.org/wiki/Al-Khalid
Arjun II

DRDO chief VK Saraswat said the German engine on the current version of the tank would be replaced by an Indian power plant and the new variant (Arjun Mk-II) would have 90% indigenous component. Saraswat, also the scientific adviser to the defence minister, told HT at Aero India-2011: "The new variant will have high indigenous quotient, except for some hydraulic and electronic systems. The tank should be ready in early 2014. It will feature several modifications including superior missile firing capabilities." On June-2011 the Mk-II begun to undergo trials at Pokhran ranges in Rajasthan. The Mk-II is also expected to go through its winter trials later the same year.
According to CVRDE the Director P. Sivakumar, the Arjun Mark II will have a total of 93 upgrades, including 13 major improvements. The major upgrades would be missile-firing capability against long-range targets, panoramic sight with night vision to engage targets effectively at night, containerisation of the ammunition, enhanced main weapon penetration; additional ammunition types, explosive reactive armour, an advanced air-defence gun to engage helicopters; a mine plough, an advanced land navigation system and a warning system which can fire smoke grenades to confuse laser guidance. Other upgrades are an enhanced Auxiliary power unit providing 8.5 KW (from 4.5 KW) and an improved gun barrel, changes in the commander's panoramic sight with eye safe LRF, night vision capability including for driver, digital control harness, new final drive, track and sprocket.
Arjun tank hull and turret has been modified to achieve the target weight of about 55 tons from 59-64 tons. Elbit is helping to enhance its firepower and battlefield survivability and IMI is helping to augment Arjun Mk II's mobility, redesign its turret and hull and improve its production-line processes told Rahul Bedi, Jane's correspondent
http://en.wikipedia.org/wiki/Arjun_(tank)#Arjun_Mk-II
Leopard 2A7+
Toimimaton kuva poistettu.
The Leopard 2A7+ was first shown to the public during the Eurosatory 2010, featuring the label "Developed by KMW - tested and qualified by German MoD". The Leopard 2A7+ has been tested by the Bundeswehr under the name UrbOb (urban operations). The planned upgrade of 50 German Leopard 2s to Leopard 2A7+ was to start in 2012.
The Leopard 2A7+ is designed to operate in low intensity conflicts as well as in high intensity conflicts.[48] The tank's protection has been increased by modular armour; the frontal protection has been improved with a duel-kit on the turret and hull front, while 360° protection against RPGs and mine protection increase the survivability of the tank in urban operations. It can fire programmable HE munition and the turret mounted MG3 has been replaced with a stabilized FLW 200 remotely controlled weapon station. The mobility, sustainability and situational awareness have also been improved.
On 2 July 2011 the Bundessicherheitsrat (Federal Security Council) announced that Germany wants to sell 200 Leopard 2A7+ to Saudi-Arabia. The intention encountered criticism in the Cabinet of Germany as well as the foreign media. The deal was approved on 6 July 2011.
http://en.wikipedia.org/wiki/Leopard_2#Leopard_2A7.2B
M1A3 Abrams
The M1A3 Abrams is in the early design period with the U.S. Army.[11][31] The Army aims to build prototypes by 2014 and to begin to field the first combat-ready M1A3s by 2018 or 2019
http://en.wikipedia.org/wiki/M1_Abrams#Future
M-84AS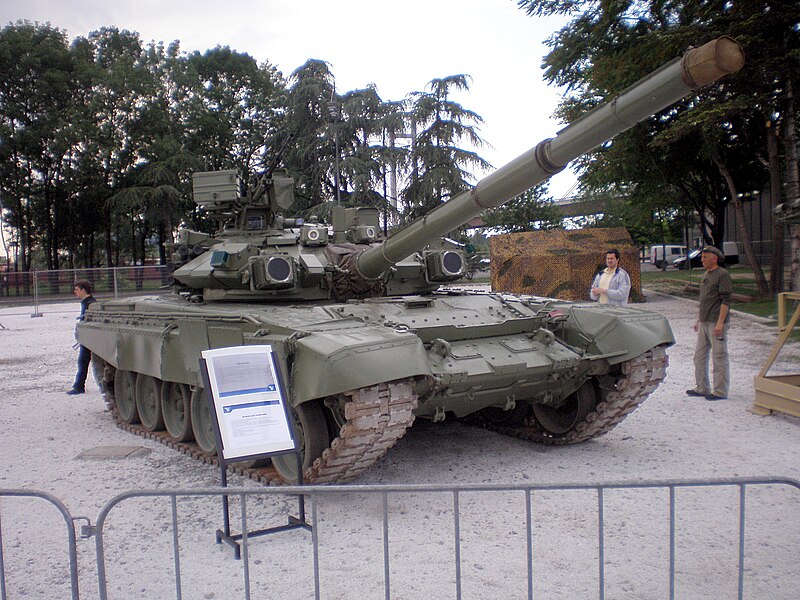 The M-84AS is a modernized version of the M-84 main battle tank produced by Yugoimport SDPR in Serbia. M-84AS is sometimes referred to as M-84AB1 and M-2001. The modernization gives an improved fire-control system with integrated day/night sight. The M84A1 gun is replaced with a similar but improved gun which, along with better control characteristics, enables easy and fast field replacement of the barrel. The M-84AS tank is able to fire anti-tank guided missiles with laser guidance through the barrel, which enables accurate engagement of enemy tanks up to 5 km.
The M-84AS is equipped with non-explosive and non-energetic reactive armour (NERA) which offers protection against modern tandem charge warheads on missiles. It is also equipped with the modern Shtora electro-optical system for defense against wire and laser guided anti-tank missiles. The new turret will provide protection against Kinetic Energy (RHAe) anti-tank guided missiles. Its new 9M119 Refleks is a laser beam riding guided anti-tank missile designed to penetrate 950 mm of RHA.
http://en.wikipedia.org/wiki/M-84AS
M-95 Degman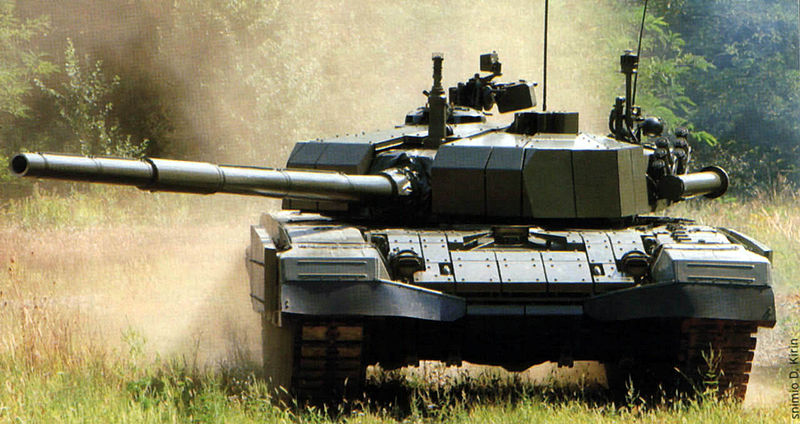 M-95 Degman is a prototype Croatian main battle tank, developed in the factory Đuro Đaković specijalna vozila d.d., located in Slavonski Brod, Croatia. It is also known as the RH-ALAN Degman. The Đuro Đaković factory is best known for its principal role in the production of M-84, a Yugoslav version of the Soviet T-72 MBT produced under licence. M-95 Degman represents a further development on the M-84.
The principal improvement over its predecessor M-84 is the application of spaced composite/laminate armor on top of which explosive reactive armor was added, hull front and side skirts are covered giving that extra protection against HEAT shaped-charge munitions. A separate ammunition bustle compartment at the back of the turret adds protection for the crew if tank is hit from behind, and added protection is given by additional slat armor in form of wire mesh with chains, main purpose being to prevent any rocket propelled grenades that might be used to penetrate weakest points at the back of the tank.
Đuro Đaković thermal imaging allows enhanced night activity and optional 1,200 hp (890 kW) engine, which increases the power-to-weight ratio to approximately 27 hp/t. There are numerous smaller changes in fire control, communications equipment, track etc. The Degman's autoloader is 15% faster meaning 9 shells can be fired in a single minute instead of 8 shells, which is M84 norm.
The Degman M-95 has not entered serial production yet, however two prototypes were ordered by the Croatian Government, a M-95 model and the other M-84D sample (for export). Đuro Đaković is going to be producing the export version the M-84D (essentially an M-84A4 with significant upgrades) for Kuwait and other potential buyers. The Kuwaiti Army has confirmed interest in modernizing its 149 dated M-84 to the new M-84D standard, as well as the procurement of an additional 66 new M-84D's. The far superior M-95 model will be ordered by the Croatian government.
http://en.wikipedia.org/wiki/M-95_Degman
Altay (tank)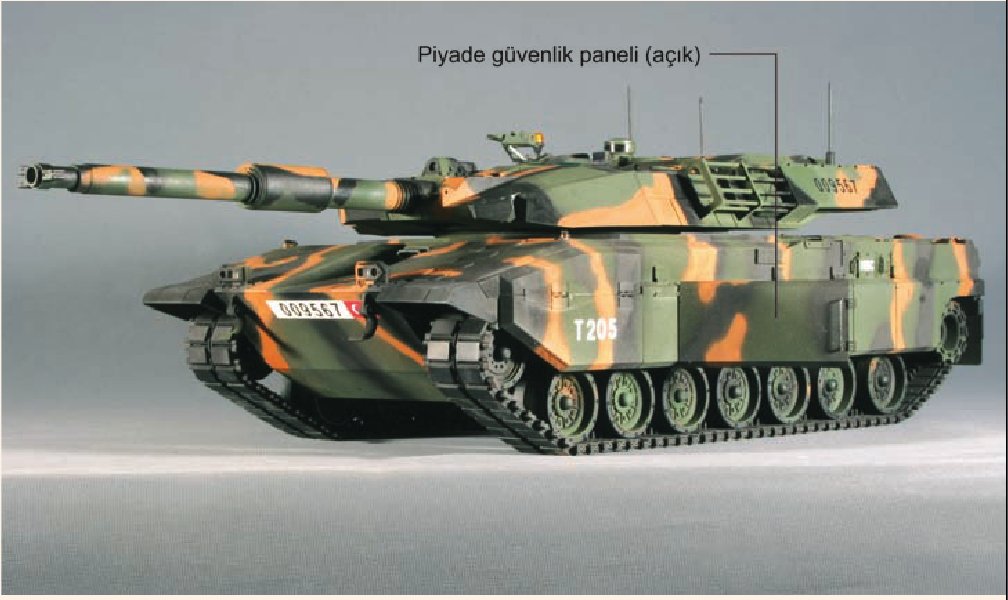 Altay is the official name of the projected Turkish third-generation main battle tank (part of the MİTÜP (Milli Tank Üretimi Projesi, English: National Tank Production Project)). It is named in honor of Army General Fahrettin Altay (1880–1974) who commanded the 5th Cavalry Corps in the final stage of the Turkish War of Independence. The tank is projected to have a 120 mm smoothbore gun and will be protected against chemical, biological and radioactive attacks. The planned maximum speed is set at 70 kilometers per hour, thanks to a 1,800 hp (1,300 kW) engine (the first two batches will have 1,500 hp engines), and the MBTs will be able to function under 4.1 meters of water.
The tank will benefit both from indigenously developed systems and from the armor technology of the South Korean K2 Black Panther, thanks to the agreement signed with South Korea. The candidates for the engine are German MTU Friedrichshafen and the new South Korean engine which is currently under development. The first two batches will be powered by the 1,500 hp (1,100 kW) MTU engines whereas the last two batches will be powered by an indigenous 1,800 hp engine. On 16 June 2008, SSM and industry members discussed a possible participation for the development of 1,800 hp (1,300 kW) indigenous power pack for use in the armoured personnel carriers and main battle tanks produced in Turkey.
First 3D picture of Turkey's new main battle tank, Altay, was released to public on 7 April 2010 during a press release by SSM.
Altay appears to share strong chasis characteristics with its technological base, the South Korean K2 Black Panther, with a re-designed Turkish turret and Aselsan's state-of-the-art Volkan-III modular fire control system. The tank will be fielded with a STANAG 4579 compatible battlefield target identification system that ensures interoperability among small tank units. The number of wheels have been increased to seven, which translates to a longer hull, heavier armor and increased survivability.
According to reports, a military envoy from Colombia was also present at the press meeting to obtain more information about the tank.
http://en.wikipedia.org/wiki/M%C4%B0T%C3%9CP_Altay
Type 99KM
Toimimaton kuva poistettu.
http://en.wikipedia.org/wiki/Type_99#Type_99KM
T-99 Armata
The T-99 "Armata" Universal Combat Platform is a Russian fourth-generation main battle tank. The ammunition storage will be separated from the crew, increasing operational safety. Additionally the engine will be more powerful and the armor, main gun and autoloader will be improved. It apparently will be in service around 2015. In spite of this, however, current tanks in service, such as the T-72, T-80 and T-90 will be upgraded to extend their service lifetimes.
http://en.wikipedia.org/wiki/Universal_Combat_Platform_T-99